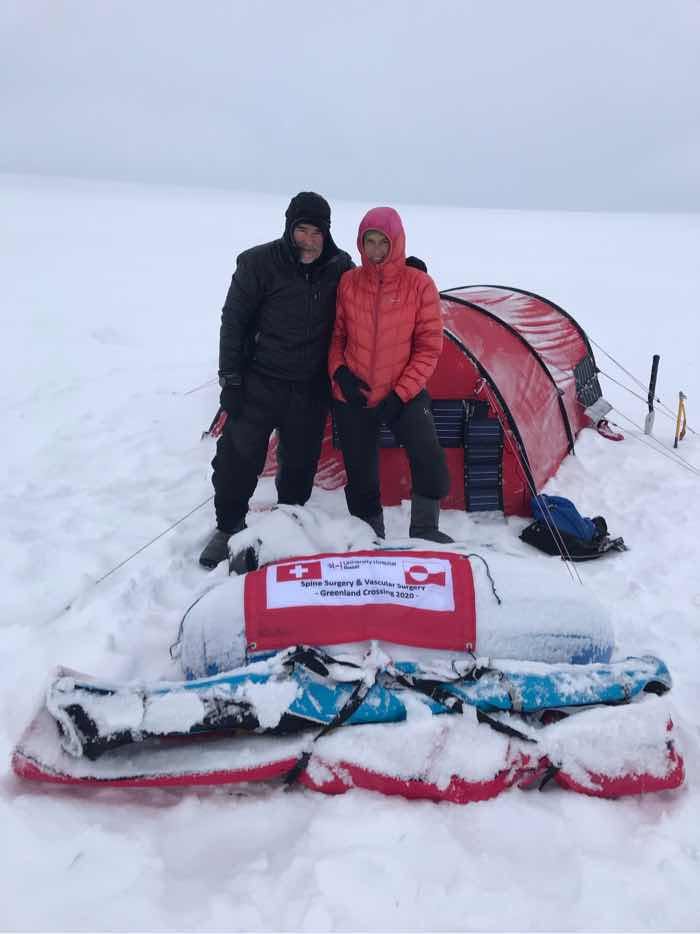 There are moments when each morsel of energy must be guarded like precious gold. Our team found acceptance today on the Greenland Ice Cap and resourced instead of resisted.
Our Swiss-German duo, surgeons Lorenz Gürke and Cordula Netzer, asked to share this special photo for their supporters back in Switzerland. The significant snowfall that can be seen on their sleds fell overnight but subsided as of this morning.
Our team reported that while the horizon was now clear, the general visibility at their camp was less than optimal, resulting in a no-fly day for the helicopter team to their location.
Dixie reassured us that the team has enough food and fuel to continue to operate comfortably for the next days. Everyone is in good health and continues to make safe, sound decisions. All equipment remains in excellent operative order. Patience and faith are the reigning emotions within the group.
Realistic hope rests with our next planned attempt to fly the helicopter from Upernavik tomorrow morning at the earliest, with a second window foreseen for tomorrow afternoon.
For more information, please visit the following links:
Expeditions Unlimited (French & English):
*includes tracking via LiveExplorer:
https://www.expeditions-unlimited.com/fr/expedition-south-north-greenland-crossing-2020-snowkite
Matthieu Tordeur (French):
Instagram: @matthieutordeur
Facebook: @MatthieuTorduerAventure